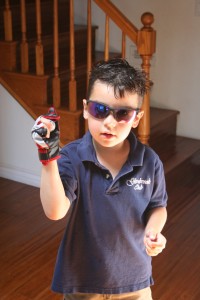 Yesterday I attained my goal of 12,000 steps! I musts say I had to jump on the treadmill at the end to make it but it was really worth my time. Reaching a goal give you the motivation to reach for more.
Today, I am setting my sights for another 12,000 steps and I know I can do this because once you taste a tiny victory the next one will taste even sweeter. I do have a busy day, School Open House, Little Guy dentist appointment and I am building a small logo for the 45 year anniversary of the family business. Top that list with homemaking and life and the day is simply packed to the gills. (I am praying that the teacher grants a no-homework day)
I must give credit to My Fitness Pal.  The gals I have met on that wonderful site have really motivated me.  The support is excellent and the service is free. If you are looking to lose a couple of inches or pounds please join me. My handle is Mommacan.
My Fitness Pal tid bits:
1. The service is Free. ( yep, free, free, free)
2. The calorie  tracking is simple and yes there is an App for that… on Itunes.
3. The exercise tracking is on that App and yes there is a housework tab for cleaning. ( win, win, win) I always knew vacuuming was exercise.
4. You can weigh in if you like and track that. But I am tracking just my waist line. One day I will buy a scale and see what it says.  But, I am in no hurry for that one.
5. You can meet and greet folks with you similar goals and your similar age! And they are very supportive.
6. The message boards are filled with tips and recipes.
I just love it. Now, come on… join me.
*Pictured above is one of the many reasons I want to get healthier. This is my Little Guy and he loves to style his hair every morning to look like Elvis.