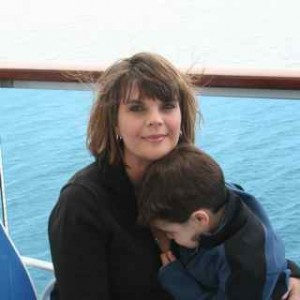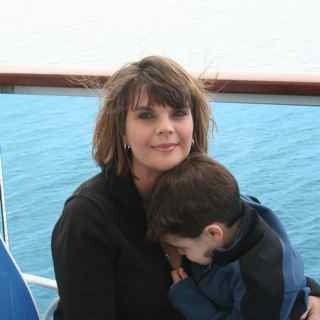 I am keeping this brief because I am going outside and enjoy the California sunshine. In a moment you will know why.
About three months ago I notice a bump in my breast.
School was starting, I had a million things to do so I did not call my doctor.
My dad was hospitalized 2 weeks ago for and an urinary tract infection and they found a spot on his lungs. I do not know the results yet of his biopsy. But we keep in touch every single day thanks to my Iphone.
I started to worry the morning I found out my dad was sick.
I jumped in the shower thinking it would the warm water would calm me down.
I looked down and that little bump had really grown and there was skin discoloration.
I called my doctor and made an appointment right when I got out of the shower on my Iphone.
I called my husband who answered on his Iphone and we talked and I felt a little less afraid.
Two days ago I went to my appointment and my Gyn called the Radiologist right away to have an ultra sound and bilateral exam.
I texted my husband from the exam room a little tiny sad face with a tear.
When I came out of the Gyn's office he knew to give hug and we talked.
As we spoke my Iphone rang and my appointment was made for early the next morning. They had made special arrangements to see me.
Two seconds after that call directions to the Hospital were texted to me on my Iphone.
I went to the appointment  the next day and was a little scared and random tears would fall. I know I should have made this appointment sooner.
As I  sat in the waiting room DH and I texted to each other and sent hearts. Even though he could not be in the room with me it was like he was there.
Another lady was in the room and she was having a tough time.
I Googled on my Iphone to find prayers for the sick and I started praying for her.
I had my exam and ultrasound and found out my bump(tumor) was benign. I texted my husband a heart with a smiley face on my Iphone.
Typed in my notes two Breast doctors to consider using to have the darn thing taken out which will automatically sync with my Mac when I get home.
I got dressed and thanked the sweet nurses that helped me.
I called my oldest son on my Iphone when I left the exam room to tell him I was okay.
I opened up the picture files on my IPhone to look at my Little Guy so grateful that momma was okay and that I could pick him up and take him to Spanish just like any other Wednesday.
DH and I had lunch and then I went home to Sync my phone with my Mac and read my new book from my Ipad.
Checked my Facebook and found out Steve Jobs had lost his battle with cancer.
I don't know why he was taken so soon.
I just know that he walked the walk and was an excellent businessman and family man.
Not only did he walk the walk, but he gave all of us cool WORKING tools to be able to walk our own walk.
Today when I doodled while I was making work phone calles my first doodle was a Pink Ribbon held together with an apple.  If I was an Etsy gal I would make one. But its just me momma, the music maker and bitty blogger crying tears of joy with tiny tears of sorrow.
To my family: I love you.
To Steve Jobs and his family: We love you and rest in peace from this  Mac Momma
p.s. Cancer sucks, let's fight the fight and win. Donate. make regular medical appointments and take care of you so that you can be there to take care of everyone else like mommas do.