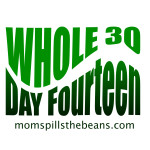 I am half-way through the Whole 30.  But today I must confess, Mother's Day weekend caught me totally off guard.  Restuarants and family events simple do not have healthy choices.  So I had a few slip ups and am now officially back on track.  Being in my home and planning my meals makes this whole process a whole bunch eaiser.
Things that baffle me about how folks cook on the outside.
1. Every single meal has processed flour of some sort.
2. Everyone seems to think that adding milk to eggs will make them fluffier. (milk makes them tastes like milk not egg)
3. Apparently the countless articles on processed meat contains nitrates and nitrates cause cancer have not been taken to heart by even the most intelligent people in my life.
I could go on for days but I really need to workout this morning, it has been several days!
Peace out,
Momma