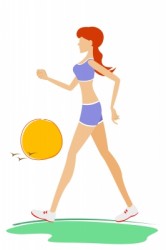 These past two days I have been enjoying a walk at home video by veteran walker Leslie Sansone. I am encouraged by the bit of dance steps they have added to the mix to keep my busy mind occupied. The music is pretty good, not as choppy and techno as her earlier releases.  It has a couple of really good songs that I enjoyed dancing to when I was a bit younger.
Leslie Sansone: Walk to the HITS Party Songs
 incorporates "We Got the Beat" and "Can't Touch This" into a simple to follow walking workout experience.  Her videos all contain the same basic four steps with a bit of variation here and there.  If you wear a pedometer and need to get your steps in for the day and the weather outside is awful… Leslie's Videos are just perfect.  You can go at your own pace and get a bit healthier each day.
My Day 3 of change will hopefully be very simliar to my Day 264 of change or even to the end, days filled with good healthy movement.