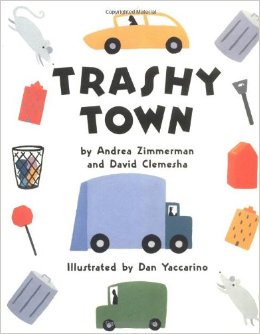 One of my favorite books for Preschool and as early as 18 months. It has bright pictures, a likable character (Mr. Gilly) and enough repetition and rhythm that the young child is reading and/or participating immediately. If you add movement you will have quite possibly the perfect book. I highly recommend.
I dump it in
I smash it down
I drive around the trashy town
 Mr. Gilly is the with a smile and helping hand cleaning up Trashy Town.
I read this book to my preschool music classes for more than 6 years and read it to my youngest son on and off until he was four. It now has an honored spot on the book shelf in anticipation of reading to my nieces and nephews in the near future as well as my grandchildren. It really is the perfect book for preschool children.
I highly recommend this as a gift for ages 1 to 4 and it can work for a five year old as a practice reading book!
Trashy Town was written by Andrea Zimmerman and David Clemesha and Illustrated by Dan Yaccarino.
What is your favorite preschool book?