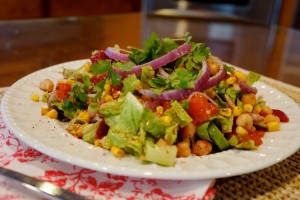 Today I embark on 30 Days of Getting This Momma Healthier and Slimmer.
I am using a cleanse method from Arbonne and incorporating more exercise and strength training for 30 wonderful days.
To Keep on Track I will be sharing my journey here as well as my meal plans each Monday.
Monday–  B- Shake, L- Salad with Chopped Turkey or Egg, Dinner -baked chicken and cauliflower, sliced tomatoes.

Tuesday

– B – Shake, L- Salad with leftover chicken, Dinner – Tacos for the boys and Mexican Ground Turkey over Brown Rice and veggies for me.

Wednesday

– B-  Smoothie, L- Salad with grilled steak, Dinner- Grilled Chicken Breast, Sweet Potato and Roasted Brussel Sprouts.

Thursday

– B- Smoothie, L- Salad with leftover Chicken Breast, Dinner- Chipotle
Friday – B – Smoothie, L- Salad, with tuna and egg salad made with a tiny bit of olive oil and shredded carrots. Dinner- Salmon, Brown Rice, Grilled Mushrooms, Salad
Saturday – B- Smoothie, L – Veggie Soup, Dinner – Hugo's
Sunday – B – Smoothie, L -Salad with Beans for protein, Dinner – Brown Rice bowl, with chicken and veggies.
So here we go!  My biggest goal would be to feel better and to lose an inch or two on my Blogger's Butt. lol
I am adding this post to the Menu-Plan Monday over at Orgjunkie.com.
Maybe I will find some fellow detox folks!