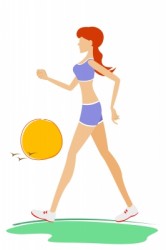 I am posting a graphic of a woman exercising because I need to really start taking better care of myself. My brother's health is in decline and I blame addiction to food and an unhealthy lifestyle to his severe diabetes complications.
I can fuss, pray and whine all I want, but the truth is this ball is in his court and it is HIS time to learn to take care of himself. I can't force him to not eat garbage, even though I love him. I wish my parents would set a better example.
Which brings me to my point. It is TIME for me to set the best example possible to my brother, my family and most importantly it is time to take care of myself.
T is for Time