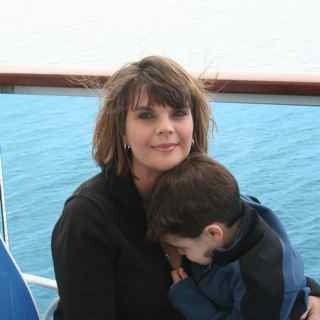 I am a WAHM with one great husband and  two boys.
I have been a mom for over 25 years.
I have one boy in college and one in grade school.
I once co-managed a cafe and helped to develop one of the best darn cornbread dressing recipes you will ever taste.
I was a band geek in high school.
I love music.  I have studied it, taught it, and made a decent living off it for many years. But times change.
I met my husband on-line!  Married him and planted myself in a new state with new dreams and a brand new life.
I love cooking, organizing, singing, reading and being a momma. I also loving collecting cookbooks.
I love gadgets of all kinds.  I have got my eye on a super-sized IMac right now.   DH gave me one for my birthday!
My favorite "brick and mortar" hangouts are Barnes and Noble, Williams Sonoma, and Pottery Barn. Wow, I am lame.
I currently work from home for the family business, run a very busy household, and drag my poor little boy to school, martial arts, and church until he is too tired to even whine! I added another small part-time job to my schedule and totally enjoying using my every growing Adobe InDesign skills.
I recently joined Curves and I love it!
I wear glasses and long to be brave enough to try contacts.      Eye Doctor squashes this dream recently.
I discovered jogging and did the couch to 5k.
I am on the fence about the Ipad mini….. 

 Hubby gave me the Ipad mini for Christmas.  It is perfect for your purse, but not easy to read while walking on the treadmill.
Have a wonderful day!