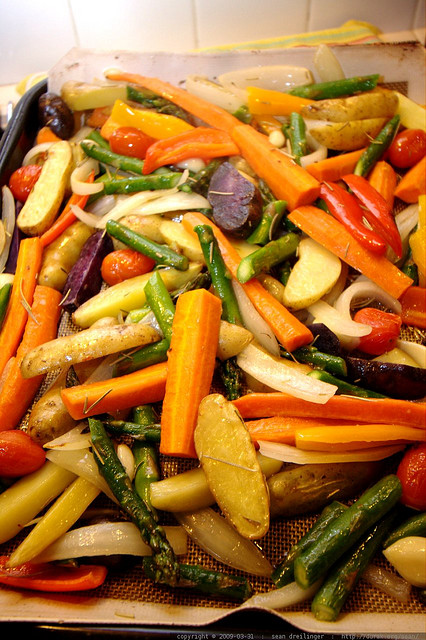 As  I dig deeper in the books I am soaking up on the Paleo diet or lifestyle I am cooking more than I have in years.  Why?  Well it is really difficult to eat  zero processed type foods if you do not cook. I am absolutely enjoying the whole process. I just wish I had more time.
I am roasting tons of different vegetables.  I have realized that prior to reading this book and being mostly vegetarian the bulk of my fruits and veggies seemed to be fruits.  I do love my sugar.
Roasting the vegetables brings out the sweeter flavors so it has been a quite happy marriage so far.
And in the midst of all this yummy roasting and eating meat again I have been cooking double batches to save time in my busy mom life.
And something crazy happened…. I ran out of storage containers! 
I had to turn off the oven before I finished the rest of the veggie roasting to get more of my favorite freezer containers.
I use two,  the Rubbermaid 12-Piece New Premier Food Storage Container Set
and the Rubbermaid Glass Food Storage Container Set with Easy Find Lid
 . Any thing that my grade school son may take out of the freezer goes in the plastics for sure, I would have for him to break a toe trying to get some cooked ground turkey!
Anyway, as far as progress.  I am sleeping better and am more energetic.  If this makes sense, my insides feel better and I feel more peaceful.   I am four days away from the time when my PMDD will kick in full blast.  And if you have ever experienced this your will know what I am talking about.  Time will tell.  Peace to all of you!